Today Apple launches AppStore search Ads
Apple designed Search Ads to be effortless for small and independent developers. You can invest little time and still get good results. We create your ads and match them to relevant searches. You can refine who sees your ad with optional keyword, audience and location features, and you only pay when a customer taps on your ad.
As of today App publishers can reach people at the very moment they're searching for apps in the AppStore. For now Apple can only promote your app at the top of relevant search results in the USA. Yes only USA Store for now!
Search Ads explained
Currently Apps can be found the organic way, similar to organic search on Google. Apps are indexed using a proprietary algorithm based on keywords, title, description etc.  There is a even a technique called AppStore Search Optimisation to boost App ranking in the Store.
But AppStore Search Ads is different, it is like AdWords for Google search. In the nutshell you can pay Apple to get your App boosted!
So why do you need to care about AppStore search, paid or organic?
According to Forrester, 63% of apps are discovered through app store searches. This makes search, in the app store, the most used method for discovering and downloading new apps. Recently, at Google I/O, Ankit Jain reported that "For the average app, search actually makes up the vast majority of installs." Simply put, this means that:
If you're not using ASO to increase your app's search ranking, you're missing out on the largest discovery channel available to your app.
Search Ads setup for your App
So how to setup your App for Search Ads? First of all login here  app.searchads.apple.com and setup your first campaign. You will need to provide the name of the App your want to promote. Check the App is not violating Search Ads Advertising Content Policies. Pick target devices iPhone, iPad or both and set default Max CPT Bid. Finally, select the right search keywords.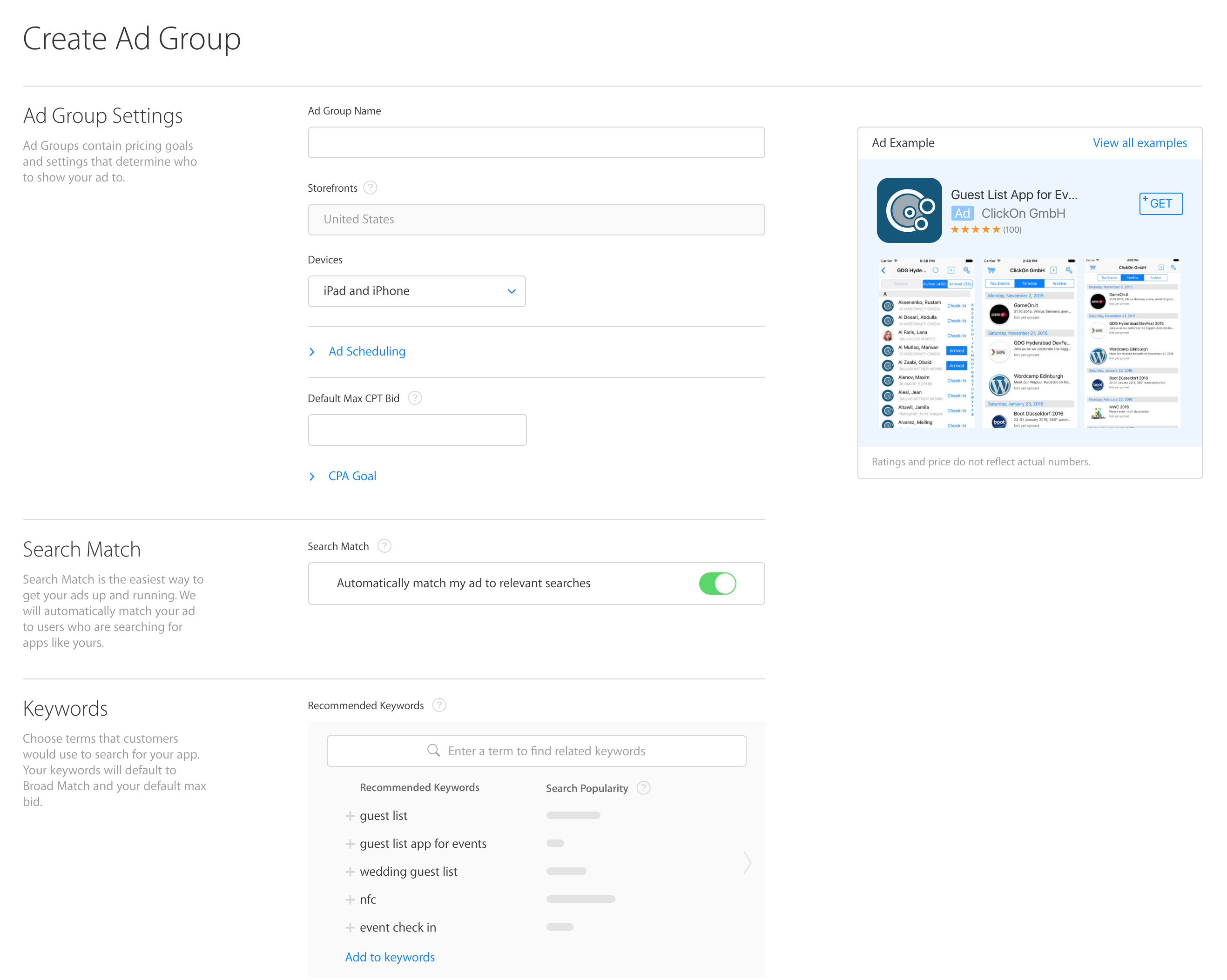 App publishers can preview Search ads on both iPhone and iPad. The cool thing about this preview is that all graphical & textual infos is taken directly from the AppStore. Below you will see our Guest List App ad samples.