Augmented Reality App for BreezYachting
3D Design of AR model for Business Card
breezeYachting.swiss wanted to create an AR app experience that shows an animated model of the HY-X yacht project changing from planning to foiling state and is triggered by a marker on the business card.
As the business card incorporated the golden wave polygon pattern with embossed gold foil was uncertain, a tracking could be achieved due to the reflection of light.
The basis of the 3D model data was provided by Hydros Innovation based at IPFL in Lausanne.
This project was also part of the tight scheduled pre boatshow in January 16, but we were able to deliver it on time.
The tools for fast design iterations proofed again the valuable gain in time when communication is well structured and happens where the actual files life.
Honestly, we had troubles with the golden wave polygons embossed on the augmented reality business cards disturbing the tracking algorithm due to the light reflections. This was clearly communicated to the client and we managed to achieve a satisfying result, but you aim for perfect right?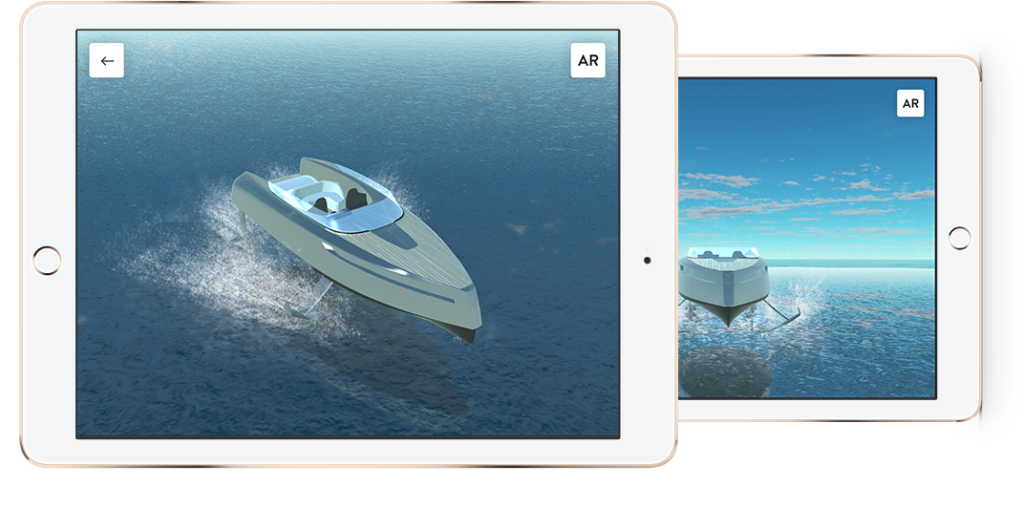 AR App with 3D mode
About us pages with basic info on the project
Improved tracking with reflections
iOs and Android App delivered on time
Custom tracker modeling