Jacob & Co manufactures revolutionary timepieces and jewelry for men and women. The company is regularly exhibiting at Baselworld Expo. To facilitate sales at various events around the world, they need a tool fulfilling catalogue functionalities, but at the same time a goal would be to improve their sales process.
Jacob wanted to avoid the hassle of filling paper order forms and the search for reference number in order to increase their efficiency.
ClickOn developed an app with a very user-friendly interface based on the concept of e-shopping so that the tool can be used by all vendors with less than 20 minutes of training. The product catalogue is the central feature of the app and offers detailed pictures, printable descriptions of the watches and videos.
The solution comes with a back-end that allows Jacob&Co to manage the content on a secure platform that is very easy to use. This system provides access to customer conditions (default discount) and sales statistics, where the sales manager can monitor the performance of his/her team in a real time.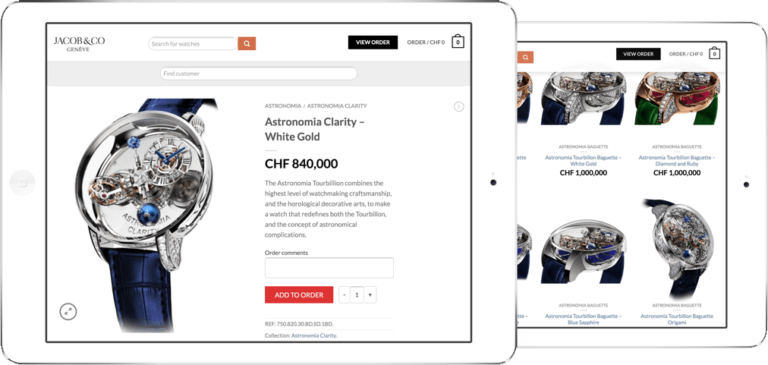 20% increase in turnover on Baselworld Expo 2014/2015/2016
Flexible discount system for existing customers and new customer reducing computation time and efficiency of sales meetings.
Product images on invoices, all production orders are received electronically, no paper anymore.