Topo Centras Lithuania eShop
The biggest electronic goods retailer in Lithuania (B2C)
Web Development, Magento Development
"TOPO CENTRAS" has been the biggest retailer of household appliances and electronics in Lithuania for 20 years. "TOPO CENTRAS" is a member of the "Euronics International" group and has more than 30 stores in Lithuania.
The e–shop of "TOPO CENTRAS" was an already working system that contained a lot of mistakes and bugs, so our mission was to develop this e–shop and make it impeccable.
For a more convenient product search and shopping process, we implemented and adapted the Relative products module, which was needed in order to see similar products during the search and ordering processes. We also worked a lot with the development of the integration with an internal "BING" system.
The optimization of the processes inside "BING" was necessary to boost the efficiency as the amount of information is getting bigger every day.
Most of the functions were created by our programmers such as Security patches and Urgent order preparation and delivery service. According to the new law in Lithuania, we have changed Leasing limitation service.
The design of "TOPO CENTRAS" eShop for desktop was already set and created but full of mistakes so we improved the design and made it more comfortable for the users. What we created was the design for "TOPO CENTRAS" e–shop for mobile devices. The biggest retailer of household appliances and electronics in Lithuania will now provide an easy and well–managed shopping experience.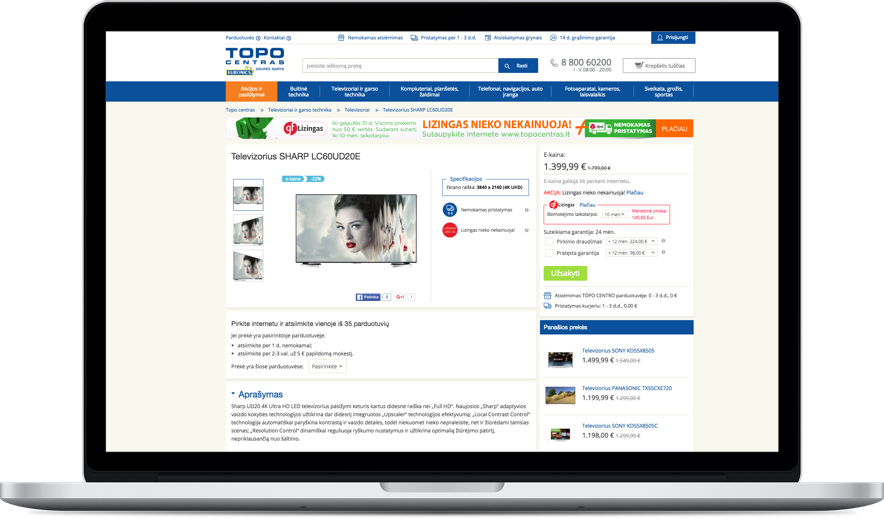 Increase of 40% in orders from mobile devices, mainly Android.
Much smoother customer experience when ordering products online