Auto Schiess online portal
Auto Schiess has over 800 new and old vehicles in stock which must be placed online daily. There was an existing portal in place already, which was very outdated and had many inherited problems (non responsive, vehicle index was not up to date).
However, the old website had a good SEO ranking and had many backlinks which must be preserved.
We took the first module to update – the vehicle database. The existing MySQL solution was deprecated in favor of a more advanced MongoDB backend. A new CMS was introduced, WordPress running on NGINX with PHP-FPM, also known as "speed hosting". Security was our top priority, so we hosted to Synthesis, the most reliable and secure WordPress hosting on the Internet.
http://websynthesis.com
We have developed a WordPress Theme according to the CI guidelines of the customer. During the set up of UI design our main focus was the typical customer profile (data provided by internal team at Autohaus Schiess AG).
Vehicle SEO techniques were applied to boost SEO ranking of the site in Google Search, this included markup cleanup and structured data definitions for products.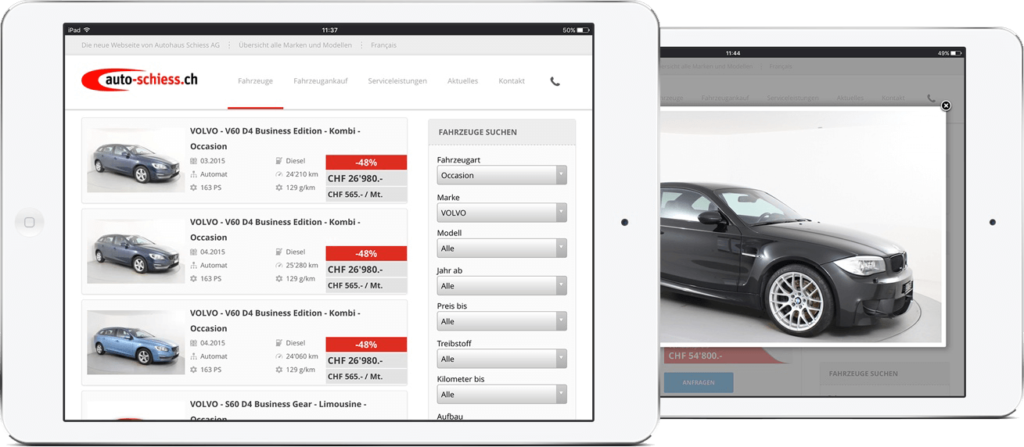 Integration with internal ERP/DMS
Separation by office location, two parking places added
20% more traffic from Google search as compared to the old portal
12% increase of mobile traffic from iOS and Android devices